Denver, Colorado is thriving.
Best known for its beer, bud, and beautiful mountains, the Mile High City is one of–if not the best–bachelor party destinations in all of America. 
With 300 days of sunshine, mountains and lakes just minutes from downtown, and a fast-growing reputation for its deliciously expansive food menus, there's no better place than Denver to bond with the boys before your bachelor jumps the broom. 
There's definitely something for everyone here. So whether your group of friends is made up of partiers, gamers, hikers, or bikers, Denver, Colorado is most definitely your best bet for planning a memorable bachelor party.
Planning – What You Need to Know
Half the stress of a bachelor party can be eliminated with simple and effective planning just a few months in advance. In this section, you'll form a solid foundation of how to plan for:
When your bachelor party is

Who is attending

Where everyone is staying

How everyone is getting around
A well-thought out plan is key to your success in having the ultimate bachelor party, so don't skip out on it!

When is it?
This is the most crucial first step in planning a bachelor party, as it gives you ample time to plan, make accommodations, last-minute cancellations, or additions. Planning at least three months in advance will give your guests enough time to make the necessary arrangements such as dedicating availability, purchasing flight tickets, or booking a hotel room. 
If you're really pushing it, two months in advance should be the latest–anything shorter than that is inconsiderate and poor planning. Set aside the dates just before the wedding so that when you send out invitations, your guests can make their commitments and your bachelor party will have a full roster ready to hit the town.
Who's Coming?
Now that you set your dates, it's time to inform your guests that the greatest bachelor party of their lives awaits and that they're invited! After sending invites, you'll want to coordinate with the bachelor who will be attending. Stay organized by keeping a solid list of names, emails, and phone numbers.

Getting a headcount this far in advance is important in planning activities, traveling plans, and the costs for it all. A bachelor party of four people will not be the same as a bachelor party of fourteen people, so the sooner you get those invitations out, the sooner you can begin planning activities.
For simplicity, text or email those potential guests well in advance to get commitments. If you want to get a little fancy with it, use a dedicated website like Zazzle, Greetings Island, or the Paperless Post to send physical and electronic invitations. This will be a nice, creative touch to help you solidify your RSVPs and let your buddies know they're in for a great time. 
How Are You Getting Around?
So far, you've got a legendary bachelor party roster, set-in-stone party dates, and housing plans. Now, let's make sure everyone has a way of getting around so that the actual trip can be a breeze. 
Since you're having a bachelor party in Colorado, one of the most geographically diverse states in America, things tend to be more spread out than larger cities, so getting around can be a drive. The airport is situated on the outskirt of Denver but has convenient access to I-70 (east to west), I-25 (north to south), and E-470–a toll road that loops around to just about every surrounding Denver suburb.
There are plenty of options for renting a vehicle once you've claimed your baggage, such as Avis, Budget Rental, and Enterprise. And while the Denver International Airport is a solid 30-minute drive to Downtown Denver, there are fantastic alternatives such as a cheap shuttle and a light rail station that runs to and from the city every 15 minutes.  
The city is packed with Uber and Lyft drivers, some staying parked and ready at the dedicated rideshare pick-up and drop-off at the Denver International Airport. However, if you plan on leaving the city for the mountains, renting a car might actually save you some coin.
The Regional Transportation District, or RTD, is Colorado's public transit services, spanning across 8 out of the 12 counties in Denver, Aurora, and Boulder. This service includes a bus and light rails with routes that can accommodate any trip, no matter how long or short. Public transit is easily the most affordable option for getting around, especially if your DD wants a night off, but can be challenging when planning for large groups. 
Lastly, the city is sprinkled with fun Lime Scooters and E-bikes if you and your friends are looking to shave some valuable minutes off of club-hopping. Rent a few of these with your boys if you want to take a scenic day out riding around Denver. 
Where is Everyone Staying?
With so many cool things to do in downtown Denver and an array of outdoor activities just outside of town, it's not going to be hard to find a place for you and the boys to hunker down for the duration of your stay. 
Whether you all decide to stay together or make separate lodging accommodations, it'd be nice to have a central location for the duration of your bachelor party, or at least a night of bonding and treating Mr. Bachelor to a grand time. 
In this section, we've got you covered on the best hotel stays in Denver and what kind of accommodations you can expect using Airbnb.
Best Hotels in Denver For a Bachelor Party
Four Seasons Hotel – This skyscraper hotel is one of Denver's tallest and prettiest buildings. Located just one block from the historic Larimer Square, this luxurious five-star hotel is just begging you to bring your wedding season festivities to one of its 1,000 square foot suites. 
With rates and accommodations that are suitable for all bachelor group types, the included spa, gym, pool, and complimentary car service will take your bachelor party to the next level, treating you to Denver's lap of luxury.

Seriously, the only downside of this hotel is that you may never want to leave it.
The Adagio – This cannabis-themed Victorian mansion located in East Denver's Capitol Hill neighborhood boasts beautiful bud-friendly boarding and a broad stroke of salacious art. Deals start around $199 per night in this cozy six-room hotel where you and your bachelor "buds" can embrace Denver's legal cannabis essence.
Amenities include complimentary breakfasts, on-site massages, a satisfying 4:20 pm happy hour snack, and a paraphernalia bar. The best part is that once you indulge in this hotel's best offering, you're surrounded by walkable eats like the salivating Illegal Pete's or Pete's Kitchen, the late-night greek diner a mere 4 minute walk away.
For a three-story hotel, your bachelor group will feel as high as ever.
HALCYON, a hotel in Cherry Creek – Stashed in the heart of Cherry Creek North, the HALCYON hotel combines modern luxury with timeless customer service. A dedicated staff greets you wielding iPads to not only give you a smooth check-in experience, but provide a complimentary latte upon arrival.
Oh, and the rooms here are lovely.
The minimalist-luxury-chic design removes unnecessary clutter from all your living spaces, giving you and your squad more room to sprawl out after a long night, or morning, of bachelor party shenanigans. Rooms here range from modest dens at $249 a night to presidential suites upwards of $1,700. Whether your group decides to stay together or go it separately, there are options for everyone.
The elevated rooftop bar is open for all seasons, giving breath-taking views of the Denver skyline. The hotel also provides a complimentary Range Rover that will take you to anywhere within the Cherry Creek North territory, saving you some cash on Uber, Lyft, or drunk stumbles home. HALCYON is even packed with a "gear garage," complete with bikes, GoPros, and scooters if you're lodging more of the outdoorsy bunch.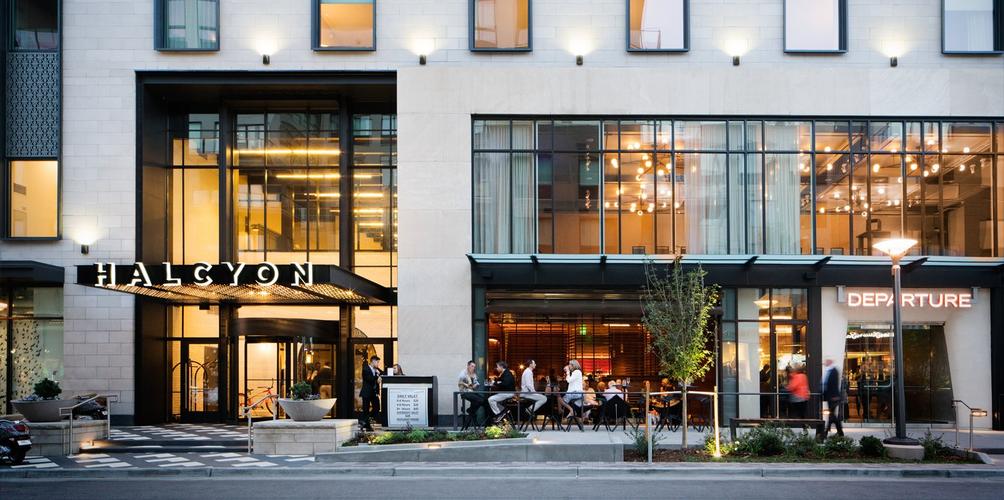 Airbnb
While hotels are great, Airbnbs let you have your whole group under one roof. For a weekend stay, Airbnb can help you pinpoint an exact location if you long to be near a specific neighborhood or location. 
This four bedroom townhouse puts you close to Downtown and houses up to 12 guests with a rooftop patio. A clean and detailed place such as this is typically what you can expect to find around Denver and surrounding neighborhoods. For a more cozy offering, this 420-friendly house that lodges up to 10 guests allows a rowdy party atmosphere with the peace of mind and security of a nice and quiet home. 
No matter where you all choose to stay, how long you're going to stay, and who is staying with whom, you can rest assured in knowing that there is no shortage of options. Take the stress out of the rest of the Denver bachelor party planning process by locking down a room, or rooms, well before your arrival.
Activities – Saturdays Are For the Boys
You're all set! Your Denver bachelor party plans have become a reality and all you gotta do is figure out which activities, clubs, bars, and restaurants to visit so that everyone has a blast.

In this section, you will get unforgettable recommendations of some of the most highly acclaimed local favorites based on your group's personality types. For each section, recommendations will be split up into daytime and nighttime so you can plan for a full day of fun. Recommendations for different seasons will also be included where needed, leaving you with endless possibilities for an unforgettable bachelor party experience in Denver. 
The art here has heart, and puts the imagination and innovation of Denver's creatives on full display. The food here is mouth-watering and delicious, as Denver's decades of carving out its own food identity are starting to pay off with modern flare. The views are captivating and will leave you with an abundance of envy-worthy Instagram pics. 
And lastly, the people of Denver enliven the city with some of the warmest and welcoming personalities in the world. So keep reading and consider this guide your ticket to the best bachelor party of your lives.
Bachelor Party Activities For Your Outdoor and Athletic Buddies
Part of what makes Denver a fantastic bachelor party destination is the mountainous skyline views, seemingly endless ski slopes, and hiking trails that would empower even the most novice hiker. The Denver outdoors has so much to offer to so many people and most of the activities on this list can be done in some of the 300 days of sunshine Colorado residents get a year. Seriously, it would be weird to come to Denver and not go outside!
Daytime
Archery Games Denver – Located in Arvada, CO, this fun family-friendly event center features games that are fast-paced and exhilarating, perfect for a premier daytime adrenaline rush before a night out. 
The inside is expertly decked out with industrial-grade turf, safety nets, archery gear, and archery targets, with a lounging area for when you need a breather. 
The flexible pricing comes at a great value of $29 a person. Private reservations are available and allow up to 20 players starting at $475 per session. Each session is a generous 75 minutes including training, practice, tables for after the games, and up to 8 different archery games with an in-field referee. Groups are split up into two teams, and a set objective usually creates some fun, healthy competition with the other side. 
As an added touch, you can bring your own grub and purchase beer, spiked seltzers, and wine on location so you can fuel up for a night out or cool down for the evening.
If you're looking for a fun and engaging battle royale experience while learning how to beam a foam arrow across an entire room, this is the right place for your bachelor party. 
Red Rocks Park and Amphitheater – One of the best and most iconic concert venues in America also doubles as a killer outdoor hiking and exercising spot that's just a 30-minute drive from Denver. At 6,280 feet above sea level, enjoy colorful views of the entire valley behind giant reddish-brown rock formations. Hike, bike, or horseback ride one of Red Rocks' five moderate trailheads. 
Use the amphitheater steps for butt-kicking inclines, running, and jumping. And if you happen to be in Colorado on a Friday, Saturday, or Sunday, bring your yoga mat and attend the famed Yoga on the Rocks, for a cardio journey unlike any you've ever experienced before. 
Cherry Creek Regional Trail and State Park – Spanning 40 miles across three counties, the Cherry Creek Regional Trail begins in Downtown Denver's historic Confluence Park and ends in a rural yet picturesque Parker suburb in Arapahoe County. 
The best thing about this trail is that you get to truly experience every inch of what makes Denver and its surrounding counties one of America's best-kept bachelor party secrets. From the Downtown portion of the trail offering skyscraper scenery to the uptown mountain and plateau landscapes, this trail will paint you a fabulous picture of how Denver looks from the outside-in. The majority of this trail is an 8-foot wide concrete surface perfect for a group biking experience. Rent bikes at Confluence Kayaks, conveniently located near the northernmost trailhead, with rates starting at $25 for three hours and $90 for the weekend. 
Another highlight of Cherry Creek trail is when it culminates into the Cherry Creek State Park, a vast reservoir with respectable hiking trails, horseback riding, camping, boating, fishing, and even a gun range. Consider spending a day here to get the best outdoor fix while staying within city limits. 
Nighttime
Chatfield State Park – This beautiful, scenic space is located–surprisingly–just a hop, skip, and jump from Downtown Denver, providing the perfect overnight outdoors getaway from the city. Chatfield State Park sits just outside Littleton, CO, and scores fantastic rolling foothills with enough wildlife to make you forget about your vehicle in the parking lot. 
With over 131 campsites (with wi-fi!) below tall and shady trees, one of the best pleasures of camping overnight include beaming morning rays that you and the boys get to wake up to. Bring your bachelor party here, not just for the fresh airs of the great outdoors, but for a true bonding experience together. 
Top Golf – With two locations both just North and South of Downtown Denver, Top Golf is your one-stop-shop for hole-in-ones. Perfect for a night out with large groups, Top Golf provides a premier golfing experience, combining unique golfing games with quality eats and drinks. Reserve a bay or two so that your large group can enjoy a private party experience, and order from an abundant alcohol menu if anyone is feeling up for a toast!
Sports, Sports, Sports! – One of the absolute best things about the eccentric city of Denver is the love locals have for sports. With notable teams belonging to the NBA, NFL, MLB, and NHL, there is a sport for every season of the year. 
Head over to Ball Arena during NBA and NHL season for up-close action to the best home-court advantage in each of the two leagues, either in the bowl or in a booth; cozy up at Empower Field at Mile High to watch the Denver Broncos try to trample their rivals; or spend a night, or day, throwing back some cold Coors' at Coors Field during a Colorado Rockies season. Because of the love Denver residents have for their sports, you can likely catch a game during any time of the year. 
Seasonal considerations – For Winter weddings, Red Rocks hosts a winter fitness class called Snowshape, which is geared toward getting skiers and snowboarders ready for the season. If you're interested in a full-body crunch in the cold, you might want to sign up for this class. 
Bachelor Party Activities for the Party Animals
If you know Denver, then you know Denver likes a little party. For a city packed with legendary breweries, niche nightclubs, and what seems like a legal cannabis dispensary on every corner, there is no shortage of good, clean, adult fun for your Denver bachelor party. If your bachelor is the life of the party, follow along for recommendations on where to bring the shine. 
Daytime
Viewhouse – Viewhouse Eatery, Bar & Rooftop serves up top-of-the-line food and snacks and booze for literally days. This elevated multi-level rooftop bar is perfect for day drinking after an afternoon Rockies win since it's located across the street in the historic Ballpark neighborhood. Enjoy a rambunctious dining area for toe-tapping music and cozy lodge-like living space to kick back and let your mimosas do their thing. 
Avanti – At the heart of the Lower Highlands district is this slick rooftop brunch hall with a downstairs dining area perfect for large groups who like to be loud and an upstairs rooftop featuring an Instagram story-worthy view of the Denver Skyline.
Your bachelor party will have an assortment of options in one of Avanti's six in-house restaurants, with a fine selection of beer, spirits, and wine. Stay for the food and drink and leave to check out a beautiful neighborhood perfect for bachelor party barhopping.

Daytime Beer Tours – If you want to combine Denver sight-seeing, day drinking, and beer-tasting, hit up one of the many expertly-designed beer tours that Downtown Denver offers. 
Get to know more about Denver's brewery culture by checking out the LoDo Craft Beer Tour, a one and a half-mile stroll, visiting four top beer spots, and downing upwards of ten beers each. For a more art-focused approach, take the RiNo Beer and Graffiti tour in Denver's industrial River North Art District. This tour starts at the acclaimed Bierstadt Lagerhaus in RiNo, so I suggest getting there 30 minutes early to stuff your bellies with brews and carbs before the actual tour begins. 
Thank me later!
Nighttime
My 420 Tours  – If it's your first time in Denver and you get a little curious about that funny smell from coming from the Taco Bell parking lot, you might want to learn more about Denver's cannabis scene. After the legalization of recreational cannabis use, dispensaries all across Colorado started popping up, becoming a huge tourism destination for those coming from the not-so-lucky States. 
My 420 Tours is at the intersection of luxurious lodging, encouraged cannabis use, and educational outings. Their all-inclusive cannabis vacation is the quintessential cannabis tourism experience, with packages that provide a two-night stay in one of Denver's 420-friendly hotels, round trip shuttles, and 4 activities to choose from. 
These activities include, but are not limited to: Greenhouse growing tours, Sushi and Joint rolling classes, an eye-watering Blaze and Gaze Tour, and many more! Even if you prefer not to consume cannabis during your stay, My 420 Tours does just enough to help each member of your Denver bachelor party get the most out of their stay. 
Denver Night Clubs – Denver is a city home to plenty of young professionals from many different places that love to bring the party. Each club is packed with people eager to meet more people, creating a nighttime experience that will leave the single fellas in your bachelor party group with pockets full of phone numbers and/or ketchup packets. 
The industrial-chic Club Vinyl on Broadway provides a spacious dance floor and elevated seating that's great for watching the action; a block over is The Church, a nightclub carved out of a renovated chapel that gets new members every Sunday from those still partying from the Saturday night before; Temple Night Club is where you'll go if you want live music with high profile DJs and musical guests, sweaty but sexy dancing, and beautiful bottle service girls. Check their event calendar to see if any familiar names could be performing by the time you and your crew are in town. 
Denver Strip Clubs – For some people, a bachelor party isn't complete without a visit to a gentleman's club. The strip club scene in Denver vows to offer an unforgettable pre-wedding send off for your lucky bachelor who feels so inclined. 
Located steps away from the Colorado Convention Center, La Boheme is a lovingly cheeky gentlemen's cabaret with beautiful exotic dancers, fun themes throughout the year, and service-industry-specific nights. The club also features drinks, steaks, and a connoisseur's cigar collection.
Sitting pretty at the intersection of Colorado and Alameda in Denver's Glendale neighborhood, Shotgun Willie's sits at the epicenter of a confusingly diverse shopping center sprinkled with three notable dispensaries, a Chick-Fil-A, Wendy's, Target Supercenter, and a convenient Wells Fargo ATM when you decide to keep the night going. The actual strip club is fun too, and with over 10,000 square feet of space, good luck running into members of the bachelor party. 
For top-notch bottle service and the widest selection of beer and spirits of any strip club, Denver's premier Diamond Cabaret offers lots of fun for bachelor party goers. VIP suites are luxurious and discreet for large groups to have a not-so-quiet night in. This club puts an extra emphasis on their salivating cigar selection, so do your research beforehand and you'll likely walk in seeing exactly what you want. 
Bachelor Party Activities for the Food and Drink Connoisseurs
Daytime
Snooze AM Eatery – The Snooze experience is a delectable one, sure to make each morning feel like your weekend. A hearty breakfast, salivating Bloody Marys, and a vividly colorful inside helps Snooze bring the flair. This local favorite keeps customers coming back with their heaven-sent pancakes and modern brunch vibes. With four locations conveniently sprinkled throughout Denver, be sure to get up early and in line.
You're gonna want to fuel up for a night in the city with a belly full of Snooze. 
Denver Biscuit Co. – These big buttery biscuits boost Denver's breakfast and brunch culture–big time. An all-time local favorite, with locations beginning to pop up like pimples, their biscuit sandwiches pack a deliciously filling punch. Try the fantastic DBC Club biscuit sandwich with fried chicken, cheddar, and bacon to give you enough energy to last a weekend. Ask for biscuit french toasts for a sweet and savory combination. Or if you're looking for a bite to eat after a night of long partying, go with the Biscuits + Gravy. 
Rest assured this nap-inducing meal will tackle any signs of a hangover.
Sassafras American Eatery – This southern-style breakfast and brunch eatery is known for its tall drinks and spicy, soulful dishes at two Denver locations. Bachelor party groups can fawn over one of the most uniquely savory Cajun-style Bloody Marys I've ever seen. The Shrimp and Grits here is also objectively the best in town and a great motivator for eating here twice during your trip. Not to mention the Po' Boy sandwiches, specifically the Fried Green Tomato Po' Boy. 
This is food for the Gods, but your bachelor party is welcome to it too. 
Nighttime
UNCLE Ramen – Widely regarded as the best ramen in all of Denver, UNCLE Ramen has pushed itself to the top of Denver's must-eat pyramid. The story goes that a Denver local needed help bringing his ramen to the scene, so his Uncle Peter gave him the money to do it. What came from that deal is the juiciest-ever Duck Ramen, or as I like to call it, The Umami Tsunami. Hot authentic dishes match the family-run atmosphere this top-notch spot has to offer. 
Elway's – Owned by its namesake, the NFL legend who played Quarterback for the city's beloved Broncos, Elway's is where you can look to spend some serious coin on some well-worth-it steaks. Elway's Private Chef Table provides an intimate dining experience perfect for a football team roster of bachelor party attendees to chow down on high-end, luxurious eats and sips. 
Eating here for just a single night of your bachelor party may have your bachelor and guests thinking you have some real deep connections in the NFL.

AJ's BBQ – Fresh from the pit and onto your plate, Denver residents rejoiced when this Chicago-based BBQ joint made its way to the Mile High City. With burnt ends, beef ribs, pork, and chicken tasting as fresh as ever, you'll begin to wonder if there's a barn attached to the building by the end of your meal. Surprisingly enough with how rich and tender the meat is, the real show-stopper here is the creamy and thick custard-filled cornbread. 
Bringing your party to AJ's can be educational, too. By enrolling in one of its BBQ pit classes, your bachelor can impress the spouse at home or on the honeymoon!
Bachelor Party Activities for the Nerd in Us
If archery or dodgeball brought out the competitive spirit in you and your friends, there are still some really fun and exciting ways to have some lighthearted competition for the duration of your stay. There's a little bit of nerd in all of us and luckily for you, Denver has a little bit of everything for someone. Grab ahold of the joystick and let the games begin!
Daytime 
Blitz Paintball – This fun, safe, and easy activity center is packed with active and competitive gameplay at any difficulty level. Blitz Paintball is the perfect spot for your RPG-focused friends interested in a day full of airsoft pellets or paintballs.  Blitz offers 7 different fields including a castle. 
Their website highly encourages bachelor and bachelorette parties, so bring the entire group if you like a little his vs. her action. 
Escapeworks Escape Room – Thanks to Denver's escape rooms boom, these confusing yet exciting spots began to pop-up around town–and locals couldn't get enough of them. Perfect for accommodating large groups, Escapeworks combines head-scratching tricky puzzles and clues with amazingly-detailed themes for all kinds of interest. Try the casino-themed room for a Bond-like bonding experience or the Egyptian tomb room to get into your inner-Indiana Jones. 
The best part of Escapeworks escape room is that there's very little you can do with no communication, so if you're looking for an initial icebreaker to get your bachelor party guest out of their comfort zones, this is the place you want to be.
Nighttime 
1UP – Retro games and tasty beer…what's not to love? No matter how packed this 'barcade' gets, there's always a game for everyone to play. Stay inside and play NBA Jam, Donkey Kong, endless Pinball, or go outside for some cornhole. 1UP is the perfect place to split up and do your thing for a few hours and since it's nearby the best bar strip in Denver, making this your final boss of the night will give you the highest score. 
Dave and Buster's – If you like the idea of arcade bars but with a full stomach, Dave and Buster's is the place. A bachelor's paradise of food, drinks, and games, Dave and Buster's Colorado is spacious enough for even the biggest groups and packed with arcade games, basketball hoops, and even a pool table. For bachelor parties, I recommend team-building activities like David's Epic Quest, a scavenger hunt perfect for team-building your bachelor group into a band of bros.

Bachelor Party Activities if You Love Art
Daytime
Denver Botanic Gardens – Located in the heart of the heavenly Congress Park neighborhood, the Denver Botanic Gardens is the best smelling place in Colorado. Filled with exotic flowers, indigenous shrubs, and a greenhouse that looks like Jurassic Park, the Denver Botanic Gardens is a beautifully-lighted breath of fresh air. 
Enjoy evening tunes during the summer in the Gardens' miniature amphitheater. For a winter wedding, The Blossom of Lights is a stunning and illuminating light show that makes Denver more bright and beautiful throughout its season. The Denver Botanic Gardens houses a private event center for a toast in the city's hidden garden, along with a gift shop, a coffee shop, and even a bistro.
For the art lover who is in Denver for the first time, this stop is a must. 
Denver Art Museum – A beautifully artistic alternative for your bachelor party daytime activities is a session of day gazing at the stories Denver expresses through its art. This carefully-crafted art museum is the flagship museum in the heart of Denver and houses some of the most captivating art exhibitions for each season. Take a look at their collections page to get a deep understanding of human culture and nature through indigenous art preservation. 
The best aspect of this museum has to be the immersive story-telling behind each art installation, proving to be an emotional and educational experience for anybody. 
Nighttime
Williams and Graham – This craft cocktail bar is hidden behind a bookshelf to complement its well-executed speakeasy theme. Perfect for the roleplayer, this fun, and simple bar serves up meals heavy enough to survive a Great Depression and deceptively delicious cocktails ready to kick start the roaring 2020s. 
RiNo Art District – The River North Art District is Denver's art mecca, packed with 23 impressive art galleries accessible on foot, bike, or car. Their online artist guide is perfect for finding exactly what type of art styles you're looking for. Check out Dateline for art with an international flair and occasional guest curators with flavors for days. For a grittier feel, the Williams Matthews Studio gallery by the reputable namesake gives vibrant watercolors that have been admired by newbies and experts alike. 
A nice part about the RiNo Art District is that it's littered full of legendary bars and breweries in possibly the most walkable district in Denver. 
Bachelor Party Activities for the Music-Loving Bachelor
Red Rocks Amphitheater – Doubling as a state park in the day and an amphitheater at night is possibly the best microcosm of Denver I can think of. This national attraction combines nature and music, with the stage and seats carved out of the red rocks that make up this fantastic venue. 
Big names have come through Red Rocks over the years and line the inside of the on-site Colorado Music Hall of Fame. With a full concert schedule that takes you well into the Autumn season, Red Rocks Amphitheater boasts the potential for any concert to be memorable.
Larimer Lounge – They say if there's a show at Larimer Lounge, you must go. A local favorite widely regarded as one of the best venues in all of Colorado, this venue gets its popularity from hosting local artists ready to leap into the next stage of their careers. This locally-focused formula is perfect for any time of year as they always have something going on here. 
If you and your bachelor party are up for a show, go!
Bachelor Party Activities With Your LGBTQ Friends 
Daytime 
Hamburger Mary's  – Situated in Denver's City Park West, expect a fun night out at one of the neighborhood's favorite dives. The purposefully purple exterior of Hamburger Mary's represents burger royalty at this LGBTQ-themed restaurant and event center. Flavorful cheeseburgers and juicy cocktails fill an impressively funny food menu.
Be sure to check their event calendar for exciting Drag Nights, knee-slapping bingo fundraisers, and DJs on the weekends.
Denver Pride Festival – This seasonal festival is the talk of the town during the first week of Pride Month (June) for its warm, charming atmosphere. Enjoy a creatively spunky Pride Parade from Cheesman Park to Civic Center Park. And for the daring, show your pride in a challenging and symbolic 5k. The actual festival is one of Denver's best, with local food trucks and small-business vendors upholding the spirit of it all. 
There is fun for absolutely everyone in your bachelor party group during Denver Pride Festival.

Nighttime
Tracks Nightclub – A staple for Gay Denver, this longstanding nightclub keeps the party going well into the nighttime. Known for their fun themes, loud weekend DJs, and RuPaul's Drag Race watch parties, Tracks Nightclub is the epicenter of Denver's gay night club scene for a reason. 
Charlie's Nightclub Denver – Not many clubs around Denver can balance a Western saloon-style theme with modern urban hits and dancing. No two people in the crowd are the same at Charlie's Nightclub because there are so many good things going on that appeal to so many different people. Whether you've joined one of their abundant country line dances or are there to get your hip-hop two-step on, Charlie's is a staple for you and your LGBTQ friends!
Communication is Key!
Now that your plans are set in motion and the greatest bachelor party of your lives is about to take place, this is a good time to remind you that the best way to make sure everything runs smoothly and worry-free is to practice good communication. 
As you are planning an epic bachelor party, having everyone on the same page at all times is crucial to having a good time. Knowing things like when your guests are flying in, when they are leaving, what everyone is doing, and what they want–or don't want–to do can help you avoid making any last-minute changes. After reading this guide, pinpoint exactly what you and your bachelor party group want to get out of this trip. Write those goals down or put them in an email or text so everyone knows exactly what the plan is.
Have a backup plan for all your activities and outings too. Call, don't text, your friends if plans change, become canceled, or someone cannot make it. It's also imperative to pass along the spirit of communication to your buddies to ensure that no one makes any last-minute plans that could affect the entire group or trip. 
Doing simple, communicative tasks like these will prevent any communication errors that could likely upend your experience.
Frequently Asked Questions – FAQ
Is Denver a Good Place for a Bachelor Party?
Absolutely! According to this Mapquest Travel Blog, Denver cracks the top ten best places for a bachelor party in North America for its diverse options of activities in a conveniently central location. Not mentioned was the awesome beer scattered around the city!
Who Pays for the Groom's Bachelor Party?
The tab should be split among each of the attendees so that the groom pays for nothing. A good reason why I recommend sending out invitations for planning way ahead of time is to give everyone a solid idea of how much they can expect to spend over the course of the festivities. 
How Long Should a Bachelor Party Last
Typically up to two days maximum would be ideal for a bachelor party, seeing as everyone is here for a much more important event: the wedding. One night could suffice if you make it memorable and two nights is too much unless you're planning a separate getaway. 
Does Denver Have a Good Night Life?
Denver has a fantastic nightlife made up of an eclectic array of activities. From vibrant art walks to colorful nightclubs to Archery Games, Denver's nightlife can match the perfect activity up with any kind of personality.